The linear vibrating screen uses the vibrating motor as the vibration power source so that the material is thrown up on the screen and moves forward in a straight line. The material enters the feeding port of the screening machine evenly from the feeder and generates the number through the multi-layer screen.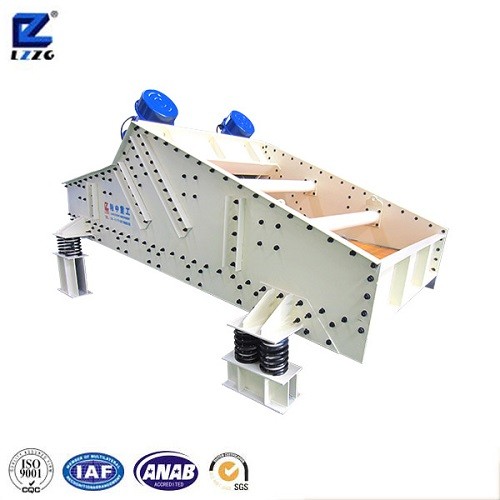 The sieves and sieves of various specifications are discharged from the respective outlets. The utility model has the advantages of low energy consumption, high output, simple structure, easy maintenance, fully enclosed structure, no dust overflow, automatic discharging, and is more suitable for pipeline operation. The tailings linear vibrating screen is mainly used for dehydration of iron ore, copper ore, gold ore, and aluminum mine tailings.
Working principle
The linear vibrating screen is driven by a double exciter. When the two exciters are synchronized and reversely rotated, the exciting force generated by the eccentric block cancels each other in a direction parallel to the motor axis, in a direction perpendicular to the motor shaft. The stack is a combined force, so the movement of the sieve machine is a straight line. The two motor shafts have an inclination angle with respect to the screen surface. Under the combined force of the excitation force and the material self-gravity, the material is thrown up and jumped forward in a linear motion on the screen surface, thereby achieving the purpose of screening and classifying the materials.
Contact us
Tel: +86-379-65160016 Cell: +86-13598484277
Email: export@lylzzg.com
Address: Shuangyue Road, Changdai Town, Mengjin County, Luoyang, China
website: lzzgmachine.com