Quick Detail
Place of Origin
China [CN]
Brand Name
LISUN
Model Number
GLE-20
HS-CODE
-
Package & Delivery Lead Time
Package
Wooden cases
Delivery Lead Time
30
Detailed Description
GLE-20 is an oil-salt two-in-one Face Masks Particulate Filtration Efficiency PFE Tester. According to ASTM F1862-17, ASTM F2299-03 (2017), ASTM F2100-2019, BS EN14683-2019, BS EN 14387-2004+A1 2008, BS EN 136-1998, BS EN 140-1999, BS EN 143-2000 +C1-A1, BS EN 149-2001+A1, etc. It is used to test the particulate filtering efficiency of daily protective masks and medical masks, and to determine the obstruction performance of ordinary fabrics and medical protective masks against a constant flow of airflow. It is widely used for medical device inspection centers, safety protection inspection centers, labor protection inspection centers, drug inspection centers, disease prevention and control centers, textile testing centers, hospitals, mask manufacturers, etc.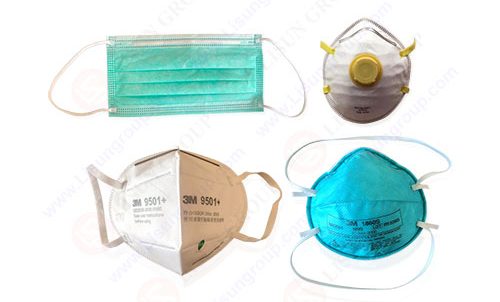 Standards:
It is designed and manufactured according to YY0469-2004 "Technical Requirements for Medical Surgical Masks" and GB2626-2006 "Respiratory Protective Equipment Self-Suction Filter Anti-Particle Respirator". At the same time, it also refers to the advanced design concepts of similar international equipment (such as the American TSI company), based on the principle of `` European standard EN1822-3: 1998 single-sheet filter material test '', but it is suitable for the test status of domestic related industries
GB / T 32610-2016 "Technical Specifications for Daily Protective Masks"
GB / T 19082-2009 "Technical requirements for medical disposable protective clothing"
GB / T 19083-2010 "Technical Requirements for Medical Protective Masks"
GB 24539-2009 General technical requirements for protective clothing and chemical protective clothing
YY / T 0969-2013 "Standard for disposable medical masks"
Standard Requirement:
Using sodium chloride particles to detect KN filter elements, and use dioctyl phthalate or equivalent oil particles (or paraffin oil) to detect KP filter elements.
Test according to 6.3
During the test, the filtration efficiency of each sample should always meet the requirements of Table 2
Table 2 Filtration efficiency
Filter element category and level

Particle detection with sodium chloride

Detection with oil particles

KN90

90.0%

Not Siut

KN95

95.0%

KN100

99.97%

KP90

Not Suit

90.0%

KP95

95.0%

KP100

99.97%
Specifications:
Filtration efficiency detection flowmeter range: (10 ~ 100) L / min, accuracy level 2.5
Filtration efficiency detection range: (0.001 ~999)%.
Filtering efficiency sampling frequency: 1-9999 times / min can be set arbitrarily.
Filtration efficiency Particulate concentration: (0.001-200) mg / m³.
Differential pressure sensor range: 0 ~1000pa
Counting median diameter: salt particles (0.075 ±0.02) μm, oil particles (0.185 ± 0.02) μm. Geometric standard deviation of particle size distribution: salt particles≤1.86, oil particles≤1.60. Dynamic detection range: 0.001-100 mg / m³, accuracy 1%.
Test area: 100cm².
Aerosol: NaCl (optionally with DOP, DEHS, paraffin oil, corn oil).
Aerosol concentration: 12-20mg / m³ (Nacl), 50-200mg / m³ (DOP).
The system contains two independent aerosol generators: oily and salty aerosol generators containing two particle counting sensors, one particle concentration sensor and one particle generator
Power: AC220V 50Hz(120V/60Hz can be customized)
GLE-20 Characteristics:
The oil and salt two-in-one test and the two sets of test hardware systems are completely independent. The test does not interfere with each other to ensure the accuracy of the oil and salt test.
The aerosol generator is used to produce continuous and stable aerosol particles, which is convenient for filling the solution.
A high-precision particle concentration counter (the core component of the sensor imported from the United States) is used to measure the number of aerosol particles.
The whole particle anti-leakage design protects the safety of laboratory personnel.
Equipped with aerosol particulate static neutralization device.
Configure temperature and humidity sensor, real-time display of ambient temperature and humidity (temperature and humidity requirements: 25 ℃ ± 5 ℃, 30% RH ± 10% RH).
Equipped with glass rotor flowmeter, vacuum pump and gas electromagnetic flowmeter.
Control system: touch-screen computer and test software have been configured to automatically test gas concentration and filtration efficiency, save, output, query, copy and export test data, support A4 paper printing and small bill printing test results
Test Report (PDF Report and Result Receipt, can also print in English):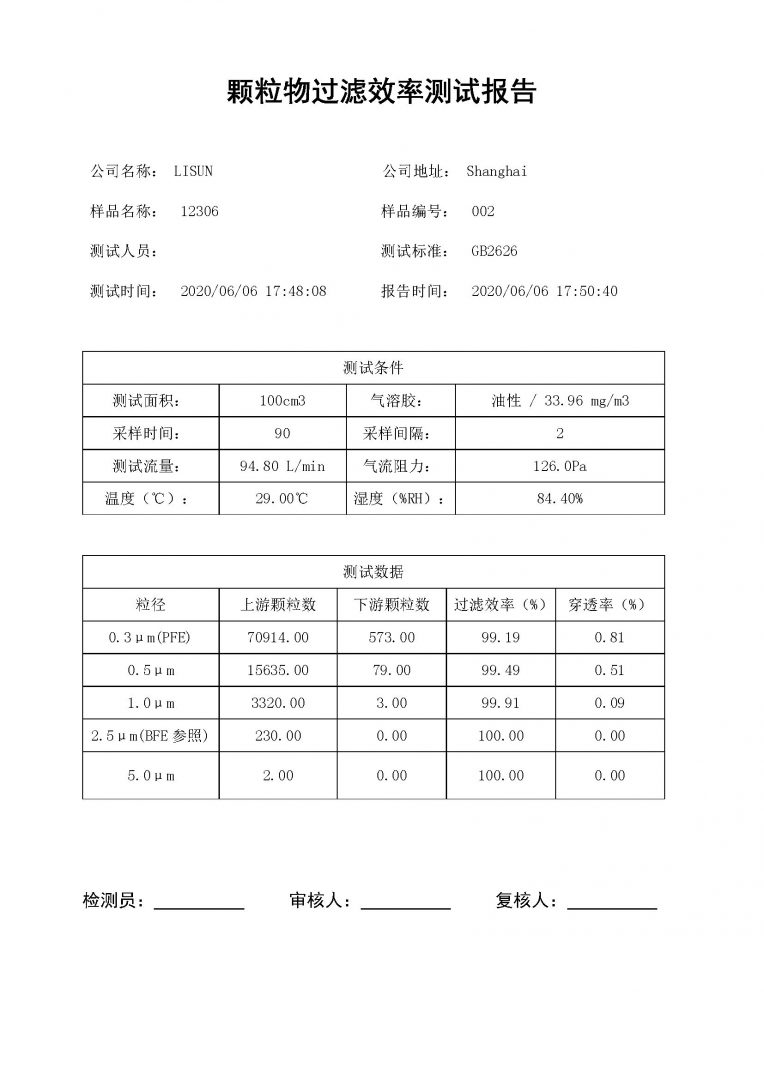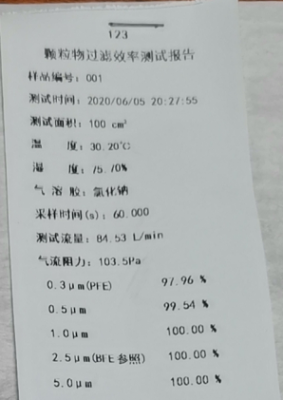 https://youtu.be/_-gRyXEtXvE